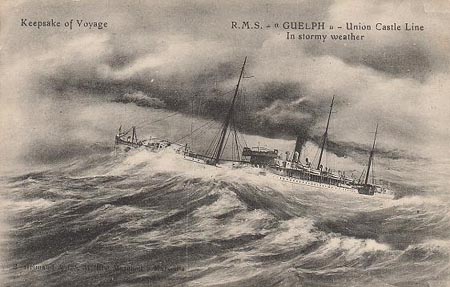 Sunday Times (Perth, WA : 1902 - 1954) Sunday 15 August 1909
'THE FATE of THE WARATAH'
MELBOURNE, Saturday.
'It is safe to say that in no other
instance of ocean disaster has the
tension of anxious agony been greater
than in the case of the missing
steamer Waratah, now three weeks
overdue in 'the three days' run be-
tween Durban and Cape Town.'
'Every day even in Perth, where
the associations with the vessel are
not intimate, the feeling has been in-
tense, and. it can easily be imagined
how the relatives of those on board
in different parts of the world have
awaited each day's cabled news
eagerly grasping at the least scrap
of hope.'
'On Tuesday, for instance, it was
wired that the Union Castle liner
Guelph, had sighted the Waratah
Eastward of East London on the
night of the 27th, but two days
later it was announced that this
report had no foundation in fact.'
'Meanwhile, the White Star liner
Runic arrived at Cape Town from
Durban, and would probably approximate
to the course which would have
been taken by the missing steamer,
but she saw no sign of Waratah, of
any kind.'
The Guelph and Runic, unlike the Harlow, were not in the right place at the right time.
SS Runic