continued...
'Mrs Starke and Miss Starke were the mother
and sister of Mr H E Starke barrister of
Melbourne, who was admitted to the New
South Wales Bar on November 2.'
'Mr Starke for whom much sympathy is felt appeared in
Sydney recently in the patents case.'
Sir Hayden Erskine Starke (1871-1958), judge, was born 22 February, 1871 at Creswick, Victoria, of Anthony George Hayden Starke, medical practitioner, and his wife Elizabeth Jemima, née Mattingley, both English born.
Hayden was educated at local schools and attended Scotch College for six months before being articled to the legal firm of Weigall & Dobson. At the University of Melbourne, he won the Supreme Court Judges' prize for articled clerks. A keen competitive rower, Starke was later president of the Victorian Rowing Association. He went into the Bar, 1892.
1901 he bought a house in Toorak Road, Malvern, which he named Calembeen. 1 July 1909 at St Mary's Catholic Church, St Kilda, he married Margaret Mary, only daughter of John Gavan Duffy and granddaughter of Sir Charles Gavan Duffy. By the end of that month, he was grieving the loss of his mother and sister aboard the Waratah.
A forceful personality, he was a member of the Yorick and the Australian clubs, Melbourne. Survived by his wife, daughter and son, Starke died on 14 May 1958 at Toorak and was cremated.
Starke's son, (Sir) John Erskine Starke, became a judge of the Supreme Court of Victoria
'Mr J T Wilson and Miss Wilson, who also joined at Melbourne, resided at Malvern Road, Malvern.'
'Mrs and Miss Wilson, saloon passengers from Melbourne, the wife and daughter of the manager of the Royal Bank Victoria.'
1 July 1909, Annetta Wilson and her adopted daughter departed Melbourne on the SS Waratah, bound for London via Durban and Cape Town.
Again our attention is drawn to the children lost with the Waratah - lives hardly beginning, brought to an abrupt end.
Hugh Wilson of Tochieneal, the general Manager of a Bank there was Annetta's husband who had encouraged the pair to visit family in the UK.
Hugh Thorburn Wilson was born at Tochieneal, Cullen 17 September 1851. He was the youngest of a family of 13, his father dying when he was a year old. He was educated at Weston House, Elgin and Edinburgh University.
Hugh Wilson joined the North of Scotland Bank at Cullen 1870 and the following year transferred to a similar position in the Aberdeen Town and County Bank at Keith.
1872 he moved to a post in Australia.
Hugh Wilson followed a very successful career, retiring April 1924 from his post as General Manager of the Royal Bank of Australia.
Mr Wilson presented an organ (Auld Kirk Organ) to the Church of Cullen (Scotland) in memory of his wife, 1914.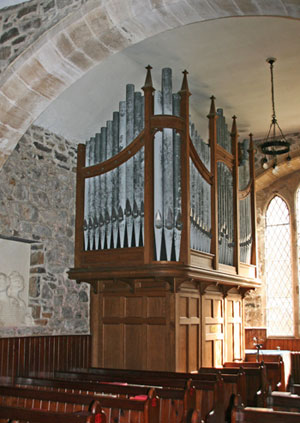 Auld Kirk Organ
to be continued...