Examiner (Launceston) Friday 14 January 1910
MISSING WARATAH
(to the Editor)
'Of

course, I must admit that if the re

port
of the captain of the Harlow can
be relied upon, it considerably discounts
my opinion that she foundered in the
hurricane. He says he distinctly saw
the two masthead lights of a steamer,
also the red port light, and that she
was fast overhauling him, when an ex

plosion
took place, and after that no
thing was to be seen.
If his statement
is worth anything, then it must have
been the Waratah. Anyhow, it only
emphasises the importance of searching
the bottom of the ocean where I at first
suggested, and we now have it from the
captain of the Harlow that such a search
is quite practicable, and he recommends that it be tried.
When we consider the appliances now
available for exploring the ocean's bed,
it seems very strange no systematic
attempt has been made to locate the
Waratah where there is every probability
she is resting.
(Was this the only man to question the lack of action??)
I do not

think so much wreckage always comes
to the surface when a vessel founders
as most people imagine. The writer
was once standing by with the other
members of the crew watching a 100
ton schooner which we had had to
aban

don

take the final plunge. Not even
a hatch came
to the surface, nor did
the harness or water casks
- which were
on deck -
break away from their lash
ings
and come up.
In fact, many an
article we expected to see
had not arrive
d at the surface when we started for
the nearest land.'
Well, there you have it from the mouth of a mariner who witnessed a vessel go down without a trace!
update:
http://waratahrevisited.blogspot.co.za/2016/06/is-there-alternative-to-poenskop.html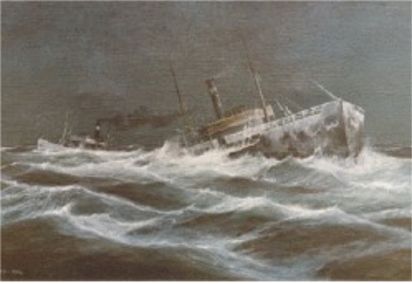 Helsingfors sinking